Hepatitis C Situation in Romania
At present, HCV infection one of the major health concerns in Romania.
As per the statistics by the ELPA, APAH-RO and the World Health Organization, Romania ranks first in terms of the total number of Hepatitis C cases. Romania has the maximum patients suffering from Hepatitis C in Europe.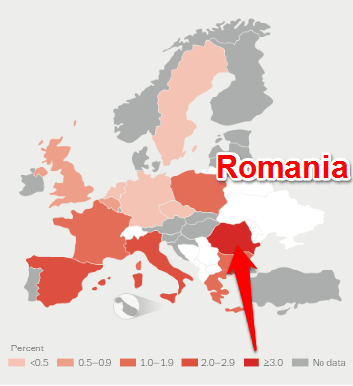 Romania is a country which has more occurrence of Hepatitis C condition in its common population with above two percentages of Romanian people affected by Hepatitis C condition.
Based on the official statistics, roughly The total number of such patients is 664,000 and among them as much as 80-90% suffers from chronic HCV and need urgent antiviral treatment. With eight thousand new cases spotted every year.
The bigger concern, in this case, is that almost 75% of this number is even unaware of their condition.
Also, the patients belong to an average age group of about 50 years and almost 70% of the patients are of age between 40-60 years.
Among all the identified cases of Hepatitis C, 99% patients affected genotype 1 and the vast majority have genotype 1b.
Studies show that the HCV genotype 1b is most common in Romania. The maximum rates are in Bucharest, Bihor, Lasi and Constanta.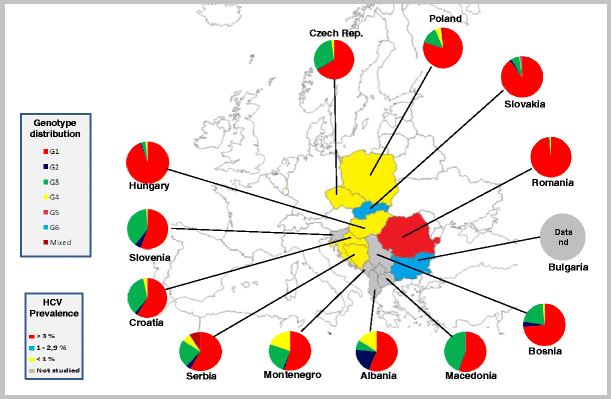 The aftermath of this disease, the economic burden is huge and the costs are only increasing day by day.
Interferon-free treatment the option is available, although it is still not reachable to most of the people.
The root of the problem lies in the fact that the overall rate of detection of the disease in Romania is exceptionally low. In fact, most of the diagnoses are done when the patients come in clinics or hospitals for some other kind of screening or get admitted due to some other physical complaints.
Most of the cases patients not aware of their infection. This lack of awareness in the Hepatitis C patients only leads to them transmitting the virus to other people.
Symptoms are almost non-existent among the patients in the initial stages and they only reach to doctors when they have already reached the advanced stage of the disease.
There is still not well-established prevention programs which can help in detection as well as treatment of Hep C in advance level. The rate of diagnosis and treatment is the one of the very lowest.
"Hepatitis C Virus (HCV) infection is a treatable and curable infection"
Interferon-Free Hepatitis C Treatment in Romania
The last few years, Romania government has introduced the newest Interferon-Free treatment for viral hepatitis c.
At present, the Ministry of Health is running a program. 'Interferon-free therapy' which is free for treatment of patients who have liver fibrosis F3 and F4.
Interferon-free price of treatment which is offered by Romanian government under CNAS for free to a single Hepatitis C patient can cost up to 17,000 Euros (Please note: we are not sure about this price, this is only based on research observation. However, the treatment cost is much high in Europe
ABBVIE VIEKIRAX: (OMBITASVIR + PARITAPREVIR + RITONAVIR) + RIBAVIRRINA + DASABUVIR
Interferon-free therapy is meant for those patients only who are at present suffering from the advanced stages of fibrosis i.e. F3 ad dF4. It is still not designed to address fibrosis F1 and F2 (the low fibrosis degrees). So it is also obvious that patients with fibrosis F1 and F2 do not come under the scope of this program.
So in essence, a patient will be eligible to get help from this program only after their condition becomes more serious and their disease worsens.
The patients are only treated if the disease gets worse.
Therefore, that it is very important for these programs to also include patients having F1 and F2 level fibrosis. Under this program, Hepatitis C patients need to be treated with continuity until the virus does not remove completely. So it is indeed imperative to set up a system where more and more people are benefitted from these programs and the people of Romania no longer remain a victim of a situation where the advanced treatments and therapies remain inaccessible to them.
Cost of Hepatitis C treatment in Romania
As per table, Following are the approved recommended Hepatitis C (HCV) treatment in Europe and Romania. In Romania, Interferon-Free treatment for hepatitis C mainly are Harvoni (Ledipasvir + Sofosbuvir) or Viekirax: Ombitasvir+Paritaprevir+Dasabuvir.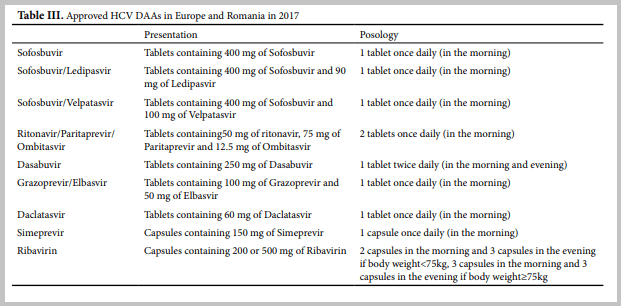 Harvoni Sofosbuvir Ledipasvir price around 50,400 Euros for per patient in Romania. So it is safe to say that if a person suffering from Hepatitis C has this kind of money, can get better in Romania. If that is not the case, what one can actually do is keep waiting for the negotiations of the Romanian national health payer, the CNAS.
In India, this similar drug generic version of Harvoni (Ledipasvir 90mg + Sofosbuvir 400mg) actually costs less than $900 US dollar for 3 months (12 weeks).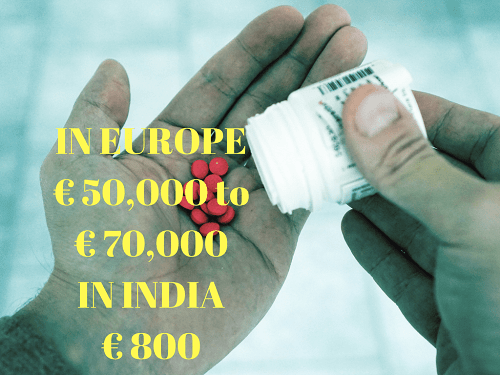 If you have any query related to Indian generic Harvoni (Ledifos or Hepcinat LP) then contact me. I'm here to help you. You can contact me directly at WhatsApp + 918851226314 or send me mail dev@generichope.com
Indian Generic Hepatitis C Medicine
Cost effective Generic versions of direct-acting antivirals such as Sofosbuvir, Sofosbuvir + Ledipasvir, Velpatasvir, Daclatasvir for Hepatitis C treatment are available in the Indian market. They are same as effective and safe as the branded drugs.
The manufacturing company of Sofosbuvir, Harvoni (Sofosbuvir + Ledipasvir) has by now voluntarily given its generic version drug production license to seven Indian drug manufacturers. These 7 companies are manufacturing and marketing generic Ledipasvir+Sofosbuvir with their different brand names. The leading Indian generic manufacturers are Natco Pharma and Hetero Labs Ltd.
The most popular and high demanding generic version of Harvoni in India is Hepcinat LP (Natco pharma) and Ledifos (Hetero). Both have the same in terms of the quality, effects, cure rate. The only difference is a brand name.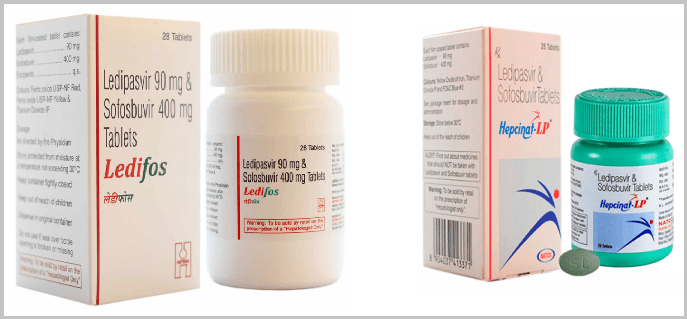 twinvir from Bangladesh is another Hep C generic medicine.
"I followed many of my patients who had received interferon-free treatment with generic drugs from India, Bangladesh, or Egypt, and they all got healed without any special side effects. From the sick, we found out that the prices they bought drugs vary, but they are generally under 1000 euro for all treatment cure." 
Said: Dr AV Ditoiu, gastroenterologist specialist, Fundament Hospital Bucharest
Import of drugs for personal use with minimum 2 to 3 months quality is allowed in many countries in Europe and Romania. If you need Indian generic Harvoni (Ledifos or Hepcinat LP) for personal use, contact me.
How to import Indian generic hepatitis c medicine in Romania for personal use
In many countries government allows people to import generic direct antiviral drugs minimum of 3-month dosage for their personal use. Some countries have Named patient import program. Patients who are suffering from Hep C can easily import it for their personal use in most of the countries including Romania with certain terms.
Terms depend on the country by country government custom laws. The local taxes for example VAT, service tax etc vary in this case.
Importation rules of Romanian for the generic Hepatitis C medicines for personal use are favourable. And there is no issue for a patient to import the medications. In Romania following are the terms to import generic medicine for personal use.
The patient should have Romanian doctor prescription. The prescription or any other relevant documentation should be sufficiently detailed and should bear proof that the medicine has actually been prescribed for personal use.
It is illegal to get these drugs imported for selling to anyone else.
A patient to pay an import tax while receiving the drugs.
Order medicine online from India: Generally, more peoples prefer to buy generic hepatitis c medicine through the Internet because it is very convenient. It is possible to order generic hep c drugs online and directly ship it to Romania your home address within a few days. No matter where are you located.
But ensure that you are purchasing the product from a trusted Indian pharmacy. It is important to opt for a supplier that is trusted and has been given good reviews subsequently.
Here are the import regulations of Romanian medication as follow:
Once the package arrives in the Romania country, the receipt must submit the below mention documents to the shipping firm that includes:
• Initially, the parcel must consist of buying invoice
• Copy of the identity document
• The document that provides a payment to a sender
• A declaration created in the Romanian language as well as signed by a recipient in that should mention the parcel content, brand names, the utility of products, the received quantity, total value, cost per unit
• Medical prescription into the Romanian standard format stamped and signed by the specialist.
• After a customs process is finished, the recipient must pay 2.5% of a commission tax from a declared customs value
• 9% of VAT tax from declared customs value
• The taxes on medicines are paid by cash or bank transfer to an agent who actually makes the delivery process.
• If you need the further documents or anything else from medicine supplier for clearing your parcel then you can contact the supplier.
Kindly contact me for any queries you may have regarding importation process. I can also assure you that we send medicine to Romania on time to time as well as have a complete success rate for these drugs being delivered. We know accurately which documents are required and supply them with a parcel.
Contact me. I'm here to help you.
If you like to know more about any other details regarding the importing generic Harvoni such as Ledifos or Hepcinat LP into Romania you can contact me dev@generichope.com  or WhatsApp me +918851226314
Please feel free to share your thought, experience about importing generic medicine into Romania on below comment section.