What is Pomalidomide
Pomalidomide, which is used as a medication to treat a type of cancer in the bone marrow (multiple myeloma). It helps in stopping the cancer cells growth.
Myeloma is a type of a blood cancer.
Pomalidomide generic brand Availability in India
Yes, there are Pomalidomide generic brands available in India which manufacturing by some of the Indian pharmaceutical companies. Natco Pharma is one of the company.
POMALID (generic Pomalidomide) tablets strengths of 1 mg, 2 mg and 4 mg by the Natco in India.
POMALID is the 1st generic version of the Pomalidomide drug. It is manufactured by the Natco Pharma Limited that is also one of the most reputed Indian Pharmaceutical companies.
Pomalidomide is a thalidomide analog indicated, in combination with dexamethasone, for patients with multiple myeloma who have received at least two prior therapies including Lenalidomide and a proteasome inhibitor and have demonstrated disease progression on or within 60 days of completion of the last therapy," Natco said. "
Natco has launched generic Pomalidomide capsules in the strength of 1 mg, 2 mg, and 4 mg in India with its brand name POMALID.
Pomalidomide is even sold by the Celgene Inc in globally under the brand name of POMALYST.
Pomalid is a description oncology medicine which can be purchased by a patient only against the valid prescription of the professional healthcare.
Product Specification
Brand Name: POMALID
Composition: Pomalidomide
Manufactured By: Natco Pharma Limited
Strength: 1, 2, 4 mg.
Form: Capsules
Packing: 21 capsules pack.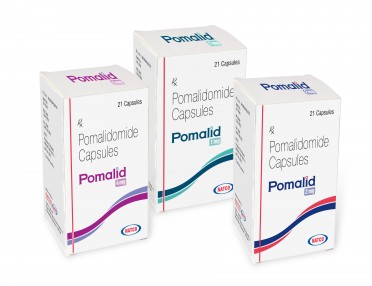 How to POMALID (generic Pomalidomide) Work?
POMALID Pomalidomide is used to treat a type of cancer in the bone marrow. It works for stopping the growth of cancer cells. It even also enhances the action of your immune system.
This medicine also helps to prevent the growth of abnormal cells and blood vessels.
It when takes with another medicine called the dexamethasone, it stimulates the immune system to attack the cancer cells and stops the formation of the vessels of blood supplying the cells of cancer.
Note: POMALID is a prescription drug and should also be used under the proper guidance and advice of the doctor. Do not take the medicine without the help of doctor prescription, since they may be suffering from an issue that is not effectively treated with the help of this drug.
Generic Pomalidomide (NATCO POMALID) cost price in India
Natco has priced its generic medicine of POMALID 1 mg, 2 mg, and 4 mg capsules at a cost of INR 5000, INR 10000, and INR 20000 respectively for a pack of 21 capsules, the company revealed.
"We believe, this is approximately 98 percent discount of price from what it is sold at in the USA to patients, as per secondary market data researched," the company added"
Please contact me for questions related to generic Pomalidomide. I'm here to help you. You can contact me directly on WhatsApp + 918851226314 or send me an e-mail dev@generichope.com