What is Ceritinib?
Ceritinib is a drug that is famously used for the treatment of lung cancer, specifically for non-small lung cancer.
This drug can be bought and consumed only through a prescription from a doctor.
This drug was developed by Novartis. Ceritinib received an FDA approval for global use in the year 2014.
Ceritinib was developed and produced for treating lung cancer that has a certain type of abnormal ALK gene.
This drug comes from the Kinase Inhibitors drug class.
Ceritinib shows its effect on the cancer cells by either slowing or stopping the further growth and spread of the cancer cells in the affected body.
Delhi HC has given green signal to Natco Pharma for generic of Novartis cancer drug Ceritinib
The Delhi High court recently gave permission to move ahead with the generic of Cancer drug Ceritinib to the Natco Pharma for its efficient use for lung cancer patients.
The Natco Pharma has declared that the Ceritinib molecule is not inventive or novel, as it falls under the broad category of the 'Markush' Formula.
What is Noxalk?
New Drug launched under brand name Noxalk Ceritinib 150mg Capsules India
Noxalk (generic Ceritinib) is a 150 mg prescription drug.
It is manufactured by the Natco Pharma Limited in India.
This drug interferes on the growth and spread of cancer cells in the affected body of the patient.
Noxalk is used for the treatment of non-small cell lung cancer that is caused by a defect in a gene called ALK (anaplastic lymphoma kinase). The ALK is a type of cancer that affects the lungs.
Noxalk is the brand name of Natco pharma.  Noxalk medicine contains generic Ceritinib.
Generic Ceritinib is available in the form of Capsules.
Each capsule contains 150 mg Ceritinib. One pack of Noxalk contains 90 Capsules.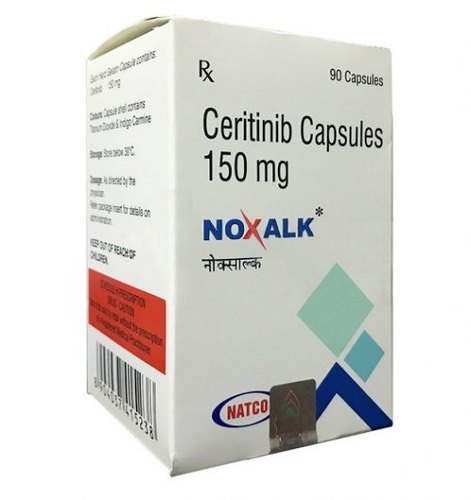 Till 2018, there were about 2.1 million cases of lung cancer in the world and an approximate 1.8 million deaths resulting from it. Source: cancer.org
Even today, it stays as one of the most commonly diagnosed types of cancer in the world and has become a leading cause of death by cancer.
This long list of stats belongs to lung cancer for the sole reason of failure to put up adequate tobacco control policies in countries all across the world.
How to Use Noxalk generic Ceritinib?
• Ceritinib can be consumed through the mouth. The standard dosage includes 3 capsules daily, one with food.
• The Noxalk Ceritinib capsule should only be taken after it is prescribed by the doctor. Take ceritinib exactly as prescribed by your doctor.
How does the Noxalk Capsule work?
As Noxalk is an anti-cancer prescription drug, it helps the affected body by suppressing or controlling the action of particular abnormal proteins.
These proteins tend to cause the rapid multiplication of specific cancer cells in the body. Noxalk helps in stopping or slowing down this growth.
Price of Noxalk generic Ceritinib  in India
Noxalk tablet costs approximately US$350 to 390. However, people can get a discount on it. The discount depends on the supplier to supplier.
The Natco generic Ceritinib that is found in India is comparatively cheaper as compared to the price at which it is found internationally.
Please contact me for any questions related to Noxalk, Indian generic Certinib. I would be happy to help. You can contact me directly on WhatsApp by simply click this link https//wa.me/+918851226314  , WeChat: DEV-53  or send me an e-mail dev@generichope.com
Disclaimer
Noxalk should be utilized only under professional medical advice and guidance as it is a prescription drug. Noxalk medicines should be taken under only a medical supervisor.
This article is only information/reference purpose and it is only based on our knowledge and faith. This is not substitute for advice from doctors and health professionals. Kindly consult with your doctor before taking this medicine. Please don't take any medicine before consulting with your doctor.