Zydus Cadila is one of the most prominent pharmaceutical companies in India.
They have launched a drug that is a probable treatment of prostate cancer at 70 % reduced cost in the local Indian market.
They launched Enzalutamide under the brand name Obnyx in India.
With this remarkably lower cost, the prostate cancer patients can now get their weekly therapy only for INR 5995/- aprox 79US$ (weekly therapy) reducing the monthly treatment cost to less than INR. 27000/-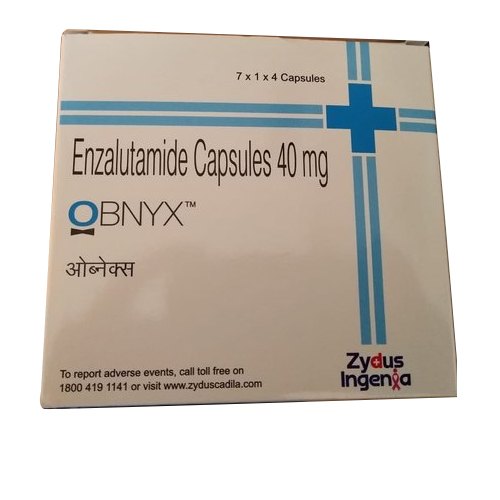 Obnyx 40mg is FDA approved generic oncology drug that is used to treat advanced forms of Prostate cancer, non-metastatic castration-resistant prostate cancer (nmCRPC).
A company statement declared that this is a drop of 70%, in comparison to the existing cost of therapy in India.
As per statement, the current MRP of Enzalutamide drug in India ranges from Rs. 70000 to Rs 80000 for a monthly therapy and can be a huge financial burden for the elderly patients as they need to continue the therapy for a long period of time. This price reduction will benefit many prostate cancer patients to adhere to the treatment.
The drug, named Enzalutamide, launched under the brand name Obnyx 40mg, will be available in soft gelatin capsules at a monthly treatment cost aprox of 357 US$.
In the U.S, Enzalutamide is sold under the Xtandi brand name.
Obnyx 40 mg capsule is usually taken as 4 capsules (4 * 40 mg = 160 mg), once a day at the same time.
According to the company statement, 1/9 Indian males have the threat of suffering from prostate cancer, which is almost 60% of males above the age of sixty-five.
Prostate cancer remains one of the major cancers in India. The drug assists the patients by decreasing the androgen hormones in their prostate glands .
Please contact me for any questions related to OBNYX 40MG, Indian generic Enzalutamide. I would be happy to help. You can contact me directly on WhatsApp by simply click this link https//wa.me/+918851226314  , WeChat: DEV-53  or send me an e-mail dev@generichope.com
Disclaimer
OBNYX should be utilized only under professional medical advice and guidance as it is a prescription drug. OBNYX medicines should be taken under only a medical supervisor.
This article is only information/reference purpose and it is only based on our knowledge and faith. This is not substitute for advice from doctors and health professionals. Kindly consult with your doctor before taking this medicine. Please don't take any medicine before consulting with your doctor.