BDENZA Enzalutamide 80 mg
BDR Pharmaceutical launched an upgraded version of its prostate cancer drug BDENZA (Enzalutamide generic) under the 80 mg strength in INDIA.
Earlier in 2017, the Drugs Controller General of India (DCGI) also granted approval to the company to produce Enzalutamide in 40mg strength, under the brand name BDENZA.
It's used in the treatment of metastatic castration-resistant prostate cancer (mCRPC) in men.
BDR Pharma's Enzalutamide 80 mg prostate cancer drug aims to cut pill burden
The launch of the BDENZA 80 mg (Enzalutamide) category brings a much-awaited relief to the patients and doctors while fulfilling the demand of lowering the pill burden (from 4 capsules a day to 2 capsules a day) for the treatment of mCRPC, which alternatively might lead to higher patient compliance.
The recommended dose of Enzalutamide is 160 mg (two 80 mg tablets or four 40 mg tablets or capsules) administered orally once daily.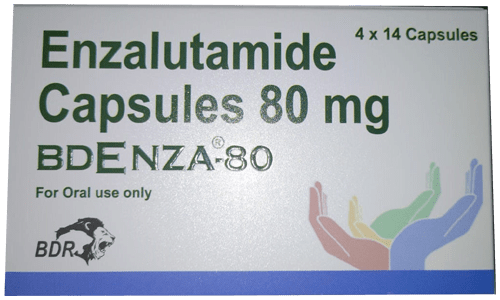 BDR pharma is the first company in India to launch Bdenza (Generic Enzalutamide) under 80 mg strength capsules.
Prostate cancer is one of the top 10 leading cancer in the world.
Men above 65 years are generally affected by prostate cancer. Symptoms may include painful urination, need to urinate frequently, recurring urinary tract infections (UTI) with sporadic blood in the urine.
BDR Pharma's goal is to enhance the care level as well as be advantageous to cancer patients by introducing ingenious options of treatment.
Approving the Enzalutamide 80 mg dosage not only helped lower the risk of the disease from progressing, but also allowed patients to manage their dosage
BDENZA 80 mg (Enzalutamide) price in India.
The company aim to provide affordable and accessible treatment options for patients with prostate cancer in India.
Each pack of BDENZA 80 mg prostate cancer drug launched by BDR Pharma in India contains 4 strips with each strip containing 14 tablets. Per pack costs INR 24,480 or INR 6,120 for a strip.
According to the data available in the industry, in comparison to the Tokyo-based Astellas Pharma Inc's Xtandi (40 mg), which costs more than ₹3.30 lakh for 112 capsules, the cancer drug with the same strength costs under INR 50,000 for 112 capsules from BDR Pharma.
Please contact me for any questions related to BDENZA 80 MG, Indian generic Enzalutamide. I would be happy to help. You can contact me directly on WhatsApp by simply click this link https//wa.me/+918851226314  , WeChat: DEV-53  or send me an e-mail dev@generichope.com
Disclaimer
BDENZA should be utilized only under professional medical advice and guidance as it is a prescription drug. BDENZA medicines should be taken under only a medical supervisor.
This article is only information/reference purpose and it is only based on our knowledge and faith. This is not substitute for advice from doctors and health professionals. Kindly consult with your doctor before taking this medicine. Please don't take any medicine before consulting with your doctor.