1. Enzalutamide drug for Advanced Prostate Cancer Treatment
• What is the Enzalutamide drug?
The Enzalutamide drug is an anti-androgen non-steroid medication, used for the treatment of prostate cancer in men.
In 2012, the FDA authorized Enzalutamide as a medication to treat prostate cancer in advanced stages.
The drug Enzalutamide internationally marketed by Astellas Pharma Inc, under the brand name of Xtandi Internationally.
• Enzalutamide length of treatment
The Enzalutamide drug is available in the form of tablets or capsules of 80 mg and 40 mg.
Doctors prescribe their patients to take the medication regularly until it is effective and tolerated.
The standard dosage is 4 capsules of 40 mg every day.
2. How much does Enzalutamide generic Xtandi cost in India
According to NPPA, the National Pharmaceutical Pricing Authority India, the Maximum Retail Price (MRP) of the Indian generic Enzalutamide, available in dosages of 40 mg, 80 mg and 160 mg, is approx. INR 24,000/- (US $320) for a pack of 28 capsules however, patients can get a good discount on it depends on the distributor and different brand name. So, the cost can vary.
Please note: The prices can be changed timely according to manufacturer and Indian government authority regulator.
If you need Enzalutamide generic Xtandi from India for personal use, contact me. I'm here to help you to get this medicine directly from India at the lowest possible price.  Click this link to contact me directly on WhatsApp http://wa.me/+918851226314 , WeChat-DEV-53 or mail me dev@generichope.com
3. Why is Enzalutamide generic price so low in India?
On November 2016, India denied the patient of Enzalutamide. India's Patent office denied the patent for Astellas Pharma Inc Enzalutamide, under the brand name of Xtandi. Due to the lack of sufficiency, clarity, and novelty.
The Indian patent body made a bold decision, then it also clears the way for the marketing of generic versions Enzalutamide drug in the Indian markets at a fraction of the price as compared to the International drug.
In India's the inventor sell the prostate cancer drug Enzalutamide at a massive charge of $5014.60 per month (Rs. 3.3 lakh)  every month.
On average, prostate cancer treatment takes eight months, which is almost $40,116 (approximately Rs. 26 lakh). Compared to the Indian scenario, the rates are high. (Note: The prices can be changed timely)
According to multiple registers of state cancer and the Medical Research Council of India, prostate cancer is the second most frequent cancer in males in India along with the world.
Therefore, there is a vast market for a prostate cancer drug.
The unfortunate reality is that majority of the people who genuinely need the treatment make not more than four dollars each day. In this situation, the Patent Office of India's verdict acted like a boon to prostate cancer patients.
The decision is to sell the Enzalutamide generic in India at nearly 70% less than Xtandi.
Pre-concession resistances filed by BDR Pharmaceuticals Limited, Fresenius Kabi, and Indian Pharmaceutical Alliance resulted in the rejection.
They claimed that the drug was a revised form of an existing substance, therefore not permitted in India under the Patent Act of Section 3(d).
The bases of criticism were widely triple – that the topic of the execution was not original, that it failed to include an inventive course of action, and that it did not incorporate a discovery on account of, among other things.
However, this was not the first time India rejected the patent for a branded drug under Patent Act Section 3(d).
Earlier, India also denied the exclusive right of a patent to Sovaldi of Gilead Sciences (Sofosbuvir) a hepatitis c treatment medicine in January 2015.
In regards of cancer drugs for the prostate treatment itself, BDR Pharmacy and other Indian generic manufacturer had previously launched Abiraterone Acetate in India– a cheaper version of the prostate cancer treatment.
The branded form of this drug, Zytiga, is retailed at INR 1.25 lakhs (or 1869 US dollars) by Johnson and Johnson, for every #120 tablet. Each month's average dose is 120 capsules, that is, INR 4,237 (or 62.32 US dollars) per day.
Compulsory licenses are routinely given to generic drug companies so that lifesaving drugs can be made available at reasonable prices.
4. What are the other reasons for Low-cost Enzalutamide generic in India?
The cost of manufacturing, marketing, and employment cost are comparatively less in India than the Western countries.
Did you know that India referred to as the pharmacy of the world?
Since India exports a massive amount of generic medication to the world, like hepatitis, cancer medicine, diabetes, and many other categories, Hence these generic medicines are available at a reasonable price when sold in India.
Branded medicines are very costly. But the pills from India have the same quality and same cure rate, which is why most cancer patients worldwide prefer to buy their medication from India.
On another account, if the patient lacks health insurance, buying their medicine from India saves them 80 to 90% cost.
5. Enzalutamide generic brands manufacturers in India
| | |
| --- | --- |
| Brand Drug Name | Enzalutamide Manufacturer in India |
| Bdenza 40 mg, 80 mg | MDS Pharmaceuticals |
| Glenza 40 mg | Glenmark Pharmaceuticals |
| Obnyx 40 mg | Zydus Cadila |
| Azel 40mg | Dr. Reddy |
| Encrpc 40mg | Intas Pharmaceuticals |
6. Top 3 popular Enzalutamide brands in India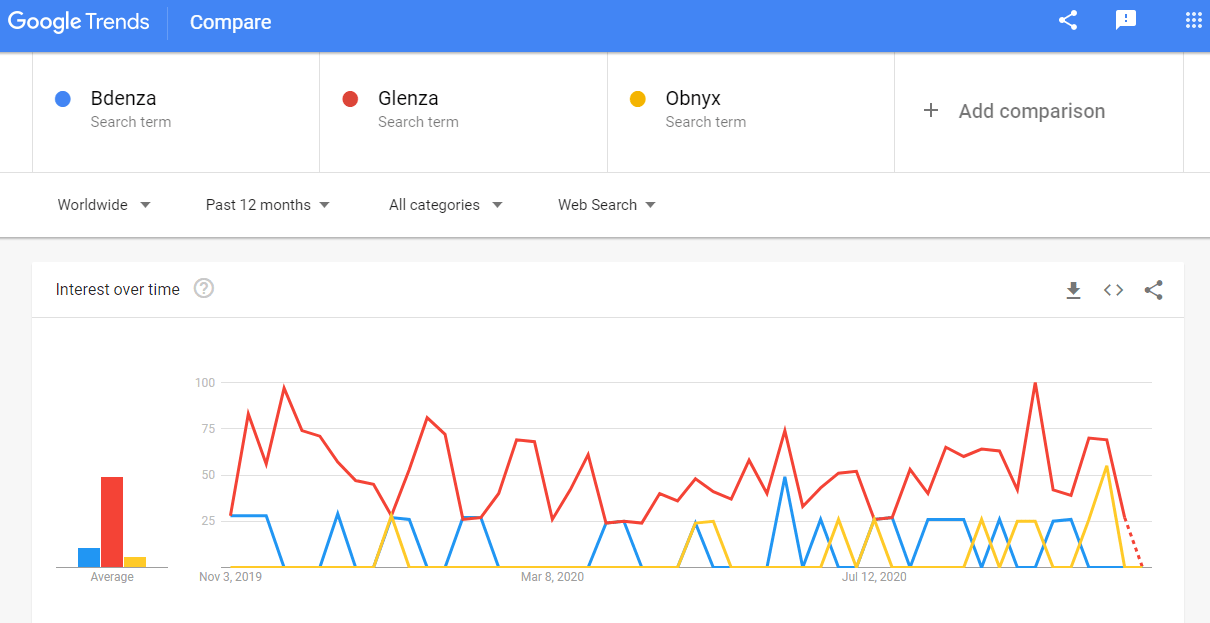 • Bdenza 40 and 80 mg

MDS Pharmaceuticals manufactured the Bdenza drug, which consists of Enzalutamide. MDS Pharmaceuticals was the company that launched the generic Enzalutamide drug first time in India.
The adult males who are most likely to be subjected to prostate cancer, which has not grown from the primary gland that has the risk for CRPC (Cancer Resistant Prostate Cancer), received the Bdenza drug.
Bdenza 40 mg, 80 mg Capsule is used in the treatment of cancer of the prostate gland. It works by blocking the effects of male hormones such as testosterone.
The Bdenza medication is available in tablets or capsules in two dosages: 80 mg and 40 mg.
• Glenza 40 mg (Glenmark)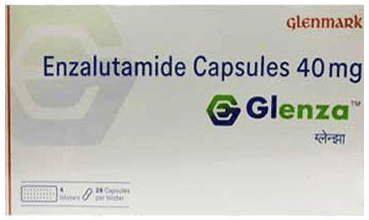 Glenmark, a company that is U.S. FDA approved for manufacturing several other cancer drugs, also offers a generic version of Enzalutamide in India with the brand name of Glenza.
The price alters from one distributor to another. It also depends on the amount of quantity that the patient needs to treat the patient's prostate cancer.
Doctors' advice is to take the Glenza tablet at a predetermined time each day.
The patients can take this medicine both before and after a meal. It is up to the physician to diagnose the dosage and frequency of taking the medication.
• Obnyx 40 mg (Zydus Cadila)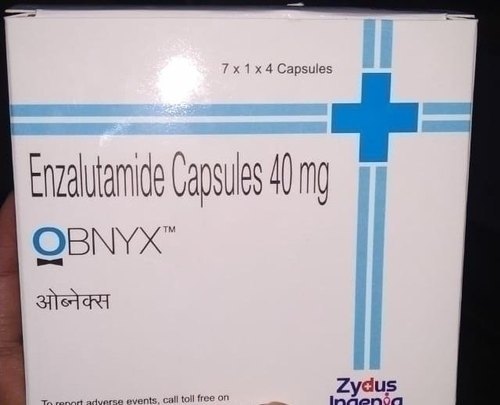 A global healthcare company that is driven by novelty, Zydus Cadila, launched generic Enzalutamide in India, a prominent effective drug for the treatment of Prostate Cancer, in India under the brand name of Obnyx which comes in 40 mg.
It was an attempt to diminish the treatment price by 70% cent remarkably.
With the Obnyx drug, the cost is now INR 5995 per week therapy, reducing the monthly treatment cost to less than Rs. 27000.
The Maximum Retail Price of Enzalutamide in the current market is somewhere between INR 70 to 80 thousand per month.
The older patients require therapy for a long time and will naturally face financial Burdon. Therefore, the reduction of the price will benefit a lot of people with prostate cancer treatment.
Cadila Healthcare of India has introduced an anti-prostate cancer drug at a notably lesser weekly charge of 79 US dollars, which is 70% lower than the present cost for therapy.
The statement says that patients can obtain Enzalutamide in soft gelatine tablets under the brand name of Obnyx, at a monthly bill of 357 US dollars. The latest MRP is more than 926-1,058  US dollars.
Enzalutamide is available under the brand name of Xtandi in the US and several other countries globally.
7. How to get Enzalutamide Generic Medicines in India
In most countries, patients with prostate cancer can import generic Enzalutamide medication in small quantity 3 months (90 days' supply) for their personal use if they have the doctor's prescription.
In India, there are two methods of getting Enzalutamide.
• You can order the medication online via mail order;
• You can visit India to buy medicine.
The first option is naturally more convenient. You can get the medicine without travelling to India if you have a valid document, like Patient ID proof or doctor's prescription.
8. Buy Enzalutamide Online from India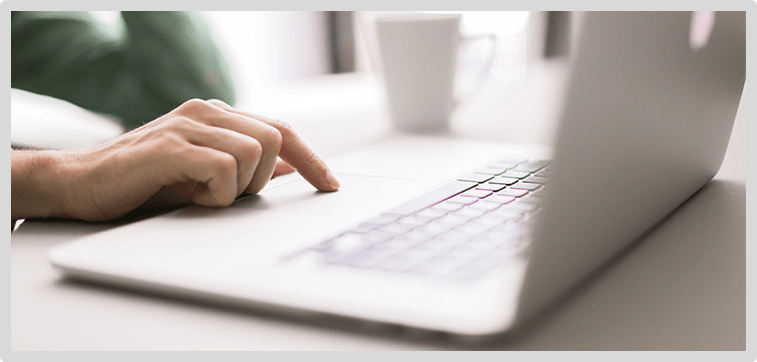 Most people opt for buying generic Enzalutamide and other medication online from India because it is exceptionally favourable.
Importing medicines through the Internet has become common and popular among people internationally because a patient can order online in their home's comfort zone.
Moreover, shipping does not take a long time. Despite where you live, the supplier can directly send  Indian Enzalutamide to the customer's home address within a couple of days.
The only important factor you should focus on is purchasing the drug from an authentic Indian source. You can do a background check on the supplier.
It is important to opt for a supplier that is trusted and has been given good reviews subsequently. You can understand the company's reputation and how long it has been in the business.
9 .Which is better Enzalutamide or Abiraterone?
Now, let us discuss the similarities and differences between Enzalutamide and Abiraterone.
Internationally, Abiraterone holds the Zytiga brand and Enzalutamide contain the Xtandi brands.
Although both the drugs reduce the activity of the male hormones, they work in slightly different ways.
Abiraterone Zytiga blocks the production of specific male hormones while Enzalutamide helps prevent the male hormone from adhering to the receptors: prostate cancer cells' proteins. But in both conditions, drug help to stop the growth of cancer cells.
Both Enzalutamide and Abiraterone can slow the growth of these tumors.
Metastatic anti-castration prostate cancer is the most threatening kind of prostate cancer because, at this stage, the tumor has already grown over distant areas of the patient's body and it is no longer stopped by hormone therapy.
It would be useful to know whether one will work after the other stops working, and which is the best order to take them.
If the prostate cancer opposes the primary hormone therapy, the drugs may be useful as a replacement treatment.
The next in line, anti-hormone drugs accessible worldwide are Enzalutamide (Xtandi) and Abiraterone (Zytiga).
In India abiraterone generics are also available with the different brand names; Abirapro by Glenmrk is one of them.
• Abiraterone
Abiraterone interrupts testosterone making. The drug sticks to enzymes and receptors – the expected testosterone locations – and inhibits the testosterone's production and its ability to boost tumor expansion.
Doctors advise taking this drug with prednisolone or prednisone. Typically, they prescribe Abiraterone to men with:
• Recently recognized risky metastatic prostate cancer, along with hormone therapy
• Anti-castration metastatic prostate cancer, if hormone therapy cannot control the spread of cancer cells
• Anti-castration prostate tumor, who have previously received cabazitaxel or chemotherapy.
What are the side effects of Abiraterone?
Bone fractures, high blood pressure, urinary tract infection, low blood potassium, fluids in legs and feet, and diarrhoea are the common side effects of Abiraterone. The rarer ones are blood in urine and heart failure, among others.
• Enzalutamide
Enzalutamide slows the cancer growth by stopping the male hormones from sticking to proteins of androgen receptors present on the prostate cancer cell surface.
Doctors have approved this drug for men with:
• Anti-metastatic non-castration prostate cancer who have high PSA despite hormone therapy, but no visible metastatic cancers on scans
• The non-castration metastatic prostate tumour, which cannot be blocked by hormone therapy and chemotherapy, is not adequate
• Anti-castration metastatic prostate cancer after receiving chemotherapy.
What are the side effects of Enzalutamide?
Fractures, high blood pressure, fatigue, diarrhoea, hot flushes, and nausea are the common side effects of Enzalutamide. Some of the other vital ones are low blood cell levels, difficulty thinking clearly, and seizures.
Enzalutamide vs Abiraterone which is best?
It is tough to determine which drug is a better for prostate cancer because physicians have not yet compared these two drugs against one another in a clinical experiment.
The observations state that both drugs have similar advantages for advanced prostate cancer.
Both treatment can extend the survival time until the PSA levels increase. At the same time, neither of them is free of side effects. Which drug is more suitable for who depends on the doctors and varies with individuals.
The alteration in side effects helps the doctors decide which one is more appropriate to whom. For instance, if cancer has spread to the lungs or liver, Enzalutamide will be more effective than Abiraterone.
The physician takes into account various health issues before recommending which drug their patients should take.
Experiments show that the patients who have received Enzalutamide experience an improved quality of life than those who got the placebo treatment.
Enzalutamide has benefits when taken after Abiraterone by men with metastatic prostate cancer.
10. Advanced Prostate Cancer treatment with Enzalutamide
Side effects of Enzalutamide
If the patients show symptoms of an allergic reaction to the Bdenza drug (sings: swelling of throat, tongue, lips, or face, shortness of breath, hives), they should go to the closest medical store at once.
The pills of Bdenza may give rise to side effects on the spinal cord. You should stop your medication and immediately contact your doctor if you notice any of the following symptoms:
• Weakness or pain in the lower body, severe pain in the low back;
• Trouble standing up or walking;
• Worsening and severe tingling or numbness;
• Sudden loss of bowel or bladder control;
• Convulsions or blackouts;
• Prink or red urine;
• Signs of infection in the lungs – experiencing shortness of breath, wheezing, puncture of chest pain, cough with green or yellow mucus, fever;
• Symptoms of swelling in the brain – weakness, confusion, lack of energy, vision problems, ringing in the ears, severe headache;
Specific side effects imply that the patient's prostate cancer treatment may be postponed or stopped for good.
The typical side effects of Enzalutamide are as follows:
• Feeling turned, dizziness, headache;
• Tired, feeling weak, or feeling short of breath;
• Increase in blood pressure (sings: pounding in the ears or neck, blurred vision, severe headache);
• Prickly sensation or burning to pain under the skin, numbness;
• Discharge with red, hot feeling;
• Bone pain, muscle or joint pain, back pain;
• Swelling in the feet or hands;
• Loss of weight, appetite loss;
• Constipation, diarrhoea;
• Symptoms of cold, like sore throat, sneezing, and stuffy nose.
There is no reaction time with clinical proofs yet. Similarly, we don't know how long the drug remains active in the patient's body.
Doctors recommend adolescents, children, lactating mothers, pregnant women, and people allergic to Enzalutamide not to use the Bdenza drug.
There is a risk of fractures and falls in the users of the drug. So, the patient must be very careful while taking the doses.
Moreover, it depends on the patient's severity of the disease, medical condition, and age to determine whether they should take the drug or not.
Since the medication can cause visual disturbances, fatigue, and dizziness, you should not engage in heavy machine work or drive.
Blood in urine, difficulty urinating, musculoskeletal pain, joint pain, back pain, and peripheral edema are other side effects.
Dosage of Enzalutamide
Dosage of the Bdenza drug: The patient is to take one dose of 160 mg each day. The patient should not decrease or increase the quantity by themselves unless their doctor directs them to change it.
The standard dose is to take 160 mg, at a fixed time every day. If the patient shows specific side effects, the physician may have to decrease or stop the treatment.
11. Treatment for advanced prostate cancer with bone metastases
Prostatectomy (radical prostatectomy)  A radical prostatectomy is surgery to remove your prostate gland.
This treatment is an option for prostate cancer that has not spread beyond the prostate or has not spread further.
Radiotherapy Radiation therapy involves using radiation to kill cancer cells.
This treatment is an option for prostate cancer that has not spread beyond the prostate or has not spread further.
Radiation therapy may also be used to slow the progression of widespread prostate cancer and relieve symptoms.
Hormone therapy Hormone therapy is often used in combination with radiation therapy. For example, you may be treated with hormones before undergoing radiation therapy to increase your chances of successful treatment.
Hormone therapy alone does not cure prostate cancer. It can be used to slow progression of prostate cancer and relieve symptoms.
Hormones control the growth of cells in the prostate gland. In particular, prostate cancer requires the hormone testosterone to develop.
The aim of hormone therapy is to stop the effects of testosterone, either by stopping production or by preventing your body from being able to use testosterone.
Cryotherapy Cryotherapy is a method of killing cancer cells by freezing them. It is sometimes used to treat men with localized prostate cancer that has not spread beyond their prostate.
Small probes called cryoneedles are inserted into the prostate gland through the rectal wall. They freeze the prostate gland and destroy cancer cells, but some normal cells also die.
The goal is to kill cancer cells while causing as little damage as possible to healthy cells.
Treatment for advanced prostate cancer
If the cancer has reached an advanced stage, it can no longer be cured. But it can slow its progression, prolong your life and relieve symptoms.
Treatment options include:
Radiotherapy
Hormonal treatment
Valence
Chemotherapy is often used to treat prostate cancer that has spread to other parts of the body (metastatic prostate cancer).
Chemotherapy destroys cancer cells by interfering with how they multiply. It doesn't cure prostate cancer, but it can be controlled to help you live longer.
It is also aimed at reducing symptoms, such as pain, so everyday life is less affected.
The main side effects of chemotherapy come from the way it affects healthy cells, such as immune cells.
12. is Enzalutamide a chemotherapy?
If you take Enzalutamide with hormone therapy, you will experience benefits similar to chemotherapy.
The latest research reveals that Enzalutamide has more probability than hormone therapy of prolonging survival for men who are recently diagnosed with prostate cancer.
It is wiser to give Enzalutamide right away to men who have advanced prostate cancer, instead of wasting hormone therapy to stop working.
In four years, Enzalutamide has proved itself to be the third treatment, extending prostate cancer patients' lifespan when used along with hormone therapy.
The drug follows a similar discovery for Abiraterone and Docetaxel – the current standard of medical care.
• Enzalutamide for the treatment of prostate cancer
Enzalutamide is an extremely powerful drug for the treatment of prostate cancer.
The hormone present in male bodies is called androgen.
Testosterone is one of these hormones, helps in the procedure of growth and responsible for expanding cancer cells in the prostate glands.
The most common side effects of chemotherapy are loss of hair and nausea.
Enzalutamide, however, does not have any such consequences.
Cancer develops when the volume of testosterone hormones decreases.
When the disease gets worse, it grows all over the body, along with the bones, and ultimately leads to higher stages.
Enzalutamide is more effective when the cancer is non-metastatic.
• What is the function of Enzalutamide?
The medication helps by reduces androgens impact – the reproductive hormones in males – on their prostate gland by blocking them and arresting the growth of prostate cancer cells.
Apparently, the drug Enzalutamide, works by inhibiting this mechanism and by reducing or stopping the growth of cancer cells.
Studies state that Enzalutamide surpasses the effects of placebo on the survival of sustained patients.
On a standard estimation, cancer patients dosed with Enzalutamide have a higher survival rate than those who received the placebo treatment.
One clinical study of the third phase shows that people living with cancer who were earlier undergoing chemotherapy started receiving Enzalutamide. Their death probabilities dropped by 37% percentage.
Moreover, one does not need to take Enzalutamide with prednisone because it can be tolerated easily and shows a better toxicity profile.
13. What is prostate cancer a little overview
Prostate cancer is one of the primary cancers in Indian males, along with men over the world.
The risk is more for older men. One out of nine males has the threat of developing prostate cancer in their lifespan.
The rate is about sixty per cent of men over sixty-five years.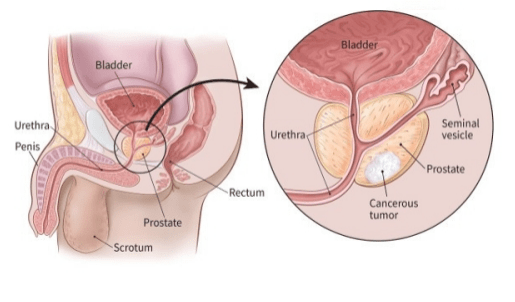 Prostate cancer is stimulated to grow from exposure to the male hormone, testosterone. So, a significant component for prostate cancer treatment consists of an agent to block testosterone formation.
Statistics states that prostate cancer is the second most cancer in male, globally.
In 2020, the Cancer Society of America evaluated that 191,930 will have prostate cancer.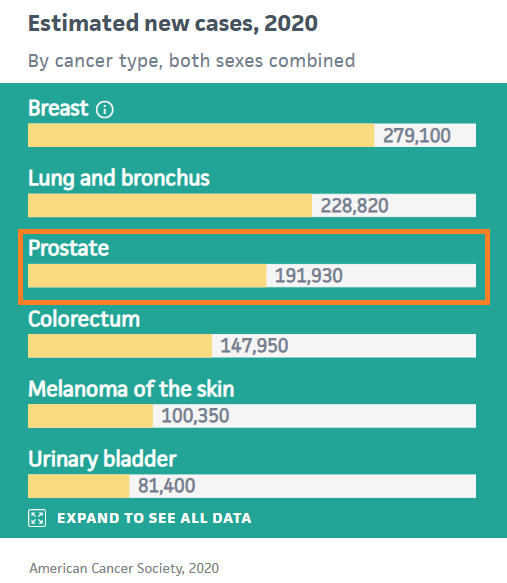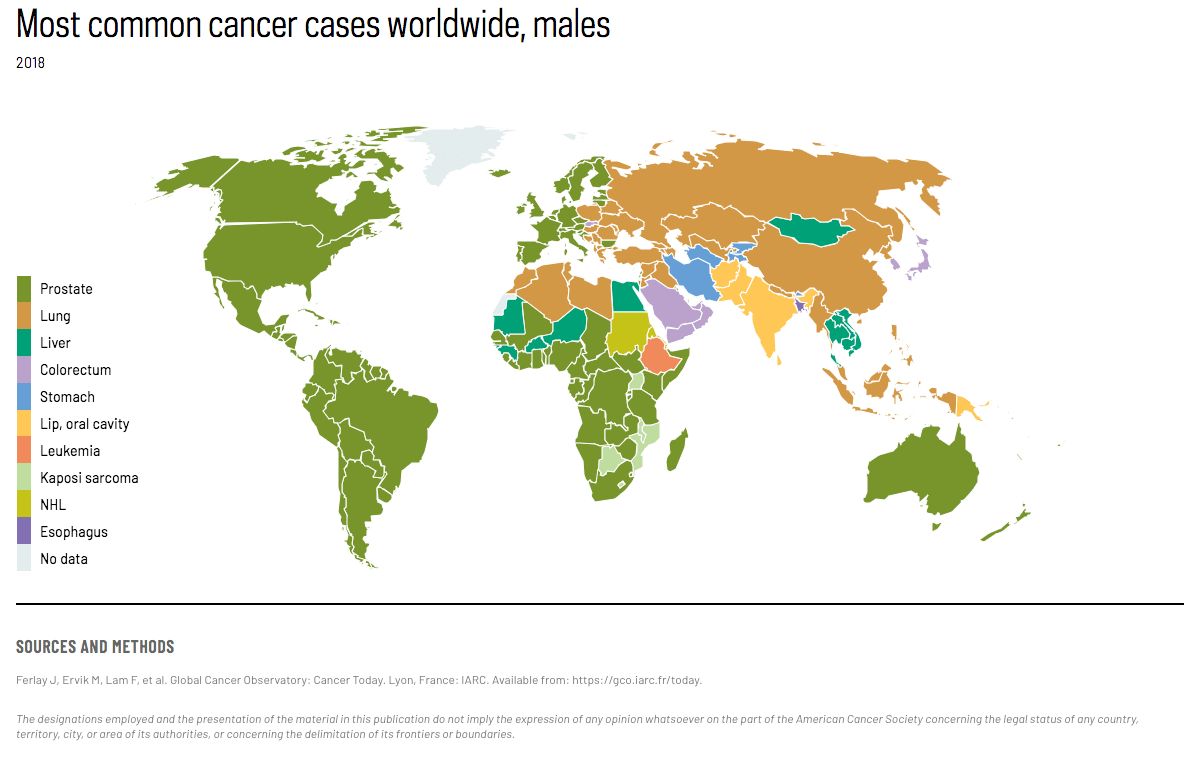 According to the latest information on prostate cancer from WHO (World Health Organization), doctors detect this illness in 1/9 men.
Every year, nearly, 30,000 to 50,000 American males and about 150,000 men worldwide fall into the classification of anti-castration called nonmetastatic castration-resistant prostate cancer. Chemical castration is the clinical term for obstructing male hormones.
Internationally, 200,000 men may have the diagnosis of prostate cancer.
· Established risk factors for prostate cancer
The well-established risk factors are:
• Specific inherited genetic conditions;
• A family history of prostate cancer;
• African ancestry;
• Increasing age.
According to data, black men in the Caribbean and the United States have the highest risk for this disease. The cause is unknown, but it is perhaps because of genetic vulnerability.
Studies propose that five to ten per cent of prostate cancer results from substantial hereditary liability. Familial conditions related to heightened risk include BRCA2 and BRCA1 transformation, and Lynch syndrome.
Note that smoking may lead to an increased threat of obesity and fatal and advanced prostate cancer in men.
Some of the other risk factors that the chief contributors estimate towards an escalated degree of prostate cancer are improper diet, family history, and obesity.
Due to the highest odds of developing late-stage prostate cancer, African American males are especially at risk.
Prevention of prostate cancer
There is no evidence that you can prevent prostate cancer. But you can reduce the risk:
Choose a healthy diet full of fruits and vegetables:
Avoid fatty foods and focus instead on choosing a wide variety of fruits, vegetables, and whole grains.
Fruits and vegetables contain many vitamins and nutrients that can contribute to your health.
Whether you can prevent prostate cancer through diet has not been specifically proven.
But eating a healthy diet with lots of fruits and vegetables can improve your overall health.
Exercise most days of the week: Exercise improves your overall health, helps you maintain your weight and improves your mood.
There is some evidence that men who do not exercise have higher PSA levels, while men who exercise may have a lower risk of prostate cancer.
Try to exercise most days of the week. If you're new to exercising, start slow and work out over time to exercise more each day.
14. Where can Enzalutamide 40 mg, 80 mg be purchased?
You can buy directly in India from trusted supplier.
If you need Enzalutamide for personal use, contact me. I can help you to get this medicine directly from India at the lowest possible cost.  Click this link to contact me directly on WhatsApp http://wa.me/+918851226314, mail me dev@generichope.com or WeChat ID: DEV-53