Generic Remdesivir
The generic version of the antiviral drug Remdesivir launched in India under the name Covifor.
The manufacturer Hetero has received approval from the Drug Controller General of India (DGCI).
Hetero labs is the first Indian company who manufacture generic Remdesivir in India.
According to the company, DGCI has approved the use of this drug in the treatment of suspected and confirmed patients of Covid-19.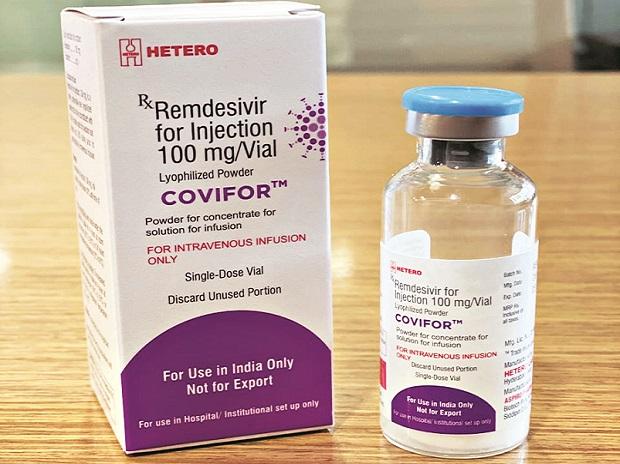 This medicine can be given to seriously ill patients.
The company said that 'Covifor approval could prove to be a game changer in view of the increasing cases of corona in India as its clinical outcomes have been positive'.
Hetero claims that he is ready to provide this medicine to patients across the country immediately.
Covifor drug will be available in 100 mg of vial (injectable).
It has to be intravenously administered to a doctor or health care worker supervision.
The company has tied up with Gilead Sciences Inc. The company extended a voluntary license to some Indian companies including Hetero to manufacture and market  generic version of Remdesivir.
Remdesivir has been approved by the DCGI only for "restricted emergency use", a patient would need to sign a consent form in case it is administered.
Remdesivir is a repurposed Ebola drug that is showing promise in treating Covid-19 patients, as it is found to reduce the viral load and enhance recovery process.
Cipla also launches Remdesivir under brand name CIPREMI in India
June 21, 2020, Cipla also launches generic Remdesivir under its brand name CIPREMI 100 mg.
Cipla is India's third pharmaceutical company, which has launched the Corona drug. Earlier, Hetero Labs and Glenmark Pharma launched corona drugs in India.
Remdesivir is the only drug the USFDA has approved for emergency use for the treatment of patients with COVID-19.
Mylan launched

DESREM 
Mylan also launched Covid-19 drug generic Remdesivir under its brand name DESREM.
Price of generic Remdesivir in India
As per information, The  Covifor manufactured by Hetero, a single dose vial is likely to cost Rs 5,000-6000 while Cipla CIPREMI cost would be under INR 5000 aprox $65.
Mylan prices its DESREM (generic Remdesivir) in India at $64 per 100 mg vial
Generic Remdesivir price in India about 80% below the price tag on the drug for wealthy nations.
Glenmark Pharma launches FabiFlu
The day before, Glenmark Pharmaceuticals received approval to launch a generic version of Favipiravir for corona treatment.
Glanmark has launched the drug by the name FabiFlu.
A strip of 34 tablets will be available for Rs 3,500 i.e. a tablet will cost around Rs 103.
However, this drug has been approved to treat patients with mild symptoms of Covid-19.
This tablet penetrates into the patient's cells and prevents the virus from copying itself to reduce viral load.
Use of this medicine in the initial stage of infection has yielded good results.
The number of corona virus patients across the country has exceeded 4 lakhs. It is a matter of relief that the number of patients recovering is more than the active cases.
I'm waiting for these medicines to reach the common people at the earliest possible and its good result came out.