Hepatitis C is a virus (HCV) that causes liver inflammation that often results in liver damage.
HCV spreads its infection through contaminated blood.
Lately, Hepatitis C treatment has required Interferon treatment, oral medications as well as injections every week. But several patients with HCV couldn't get it because of underlying health issues or severe side effects.
However, the good news is that the treatment scenario of Hepatitis C is changing at a rapid rate for good. Now, chronic HCV can be cured through oral medicines called direct-acting antivirals that are required to be consumed daily for a period of 3 to 6 months treatment course.
Here, it is noteworthy that Canada is among the countries that have been suffering from chronic HCV.
Hepatitis C treatment in Canada involves whopping costs of treatment. To join hands in medical aid, India has come up with affordable treatment costs.
As a breakthrough, the Hepatitis C cost in India for complete treatment is much low as compared to its cost in Canada. Some of the WHO, GMP certified pharmaceuticals companies in India are manufacturing licensed generic versions of Hepatitis C medicine.
For instance, Harvoni cost in India is INR 25000. Epclusa cost in India for a bottle of 28 tablets is INR 18,500.
*Prices are subject to change.
For a better idea of its treatment and costs comparison, read below.
Hepatitis C situation in Canada
According to the Public Agency of Canada, 317,100 Canadians had Hepatitis C in 2017.
in 2019, the total number of hepatitis c cases reported are 11,441
In 2019 infection rate of Hepatitis C in Canada at every 100,000 people was 30.4 cases.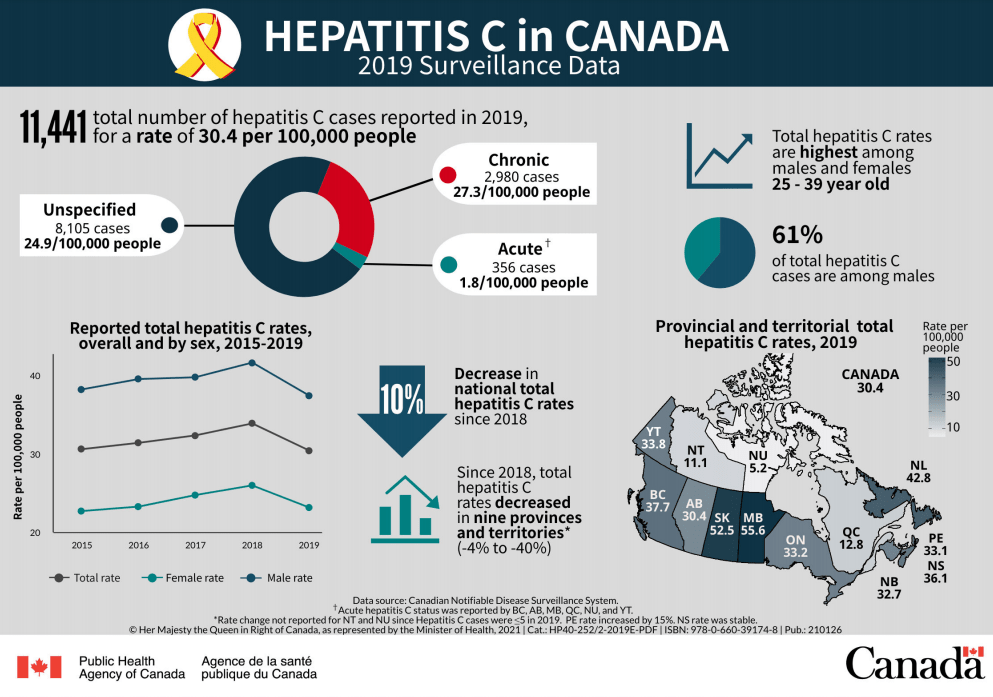 Source: The Public Health Agency of Canada
Hepatitis C Genotypes in Canada
In Canada, approx 64% of patients have HCV genotype 1 and 20% of patients have genotype 3. The most common genotype is found in genotypes 1 and 3.
Hepatitis C Issues and Challenges in Canada
The cure rate of Hepatitis C is more than 90% with medication. For better results, the diagnosis should be made at the early stages and treatment must be taken accordingly. This results in better recovery rates.
However, the issues and challenges in Canada for Hepatitis C are grave. Let's have a look –
67% of Canadians reported never being tested for Hepatitis C.
44% of those living with Hepatitis C are unaware of their infection.
44% of Canadians reported that their most recent test was more than 5 years ago.
 Hepatitis C medicine available in Canada
Current medicines for Hepatitis C available at present in Canada include Harvoni, Epclusa, Mavyret, and Zepatier.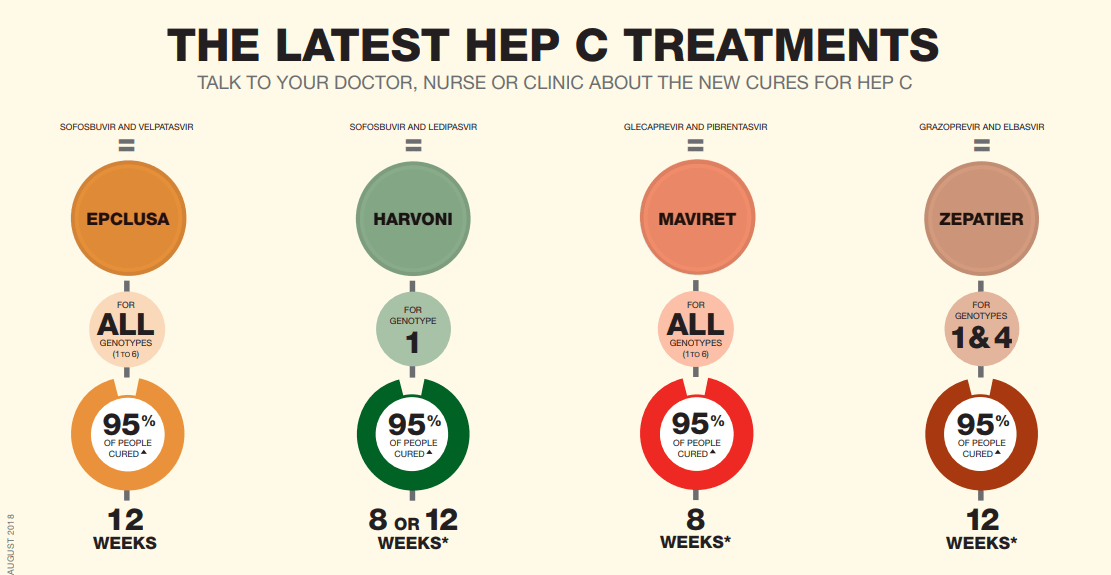 The Cost of Hepatitis C Treatment in Canada
Hepatitis C cost in Canada for the treatment is high. For a 12-week treatment course, the cost of respective medicines.
Mavyret – $39,600
Zepatier – $54,600
Harvoni – $94,500
*Prices are subject to change.
I will help to arrange a 12-week course of hepatitis c medication directly from India at the lowest cost including its delivery charges. contact me at dev@generichope.com or WhatsApp me https://wa.me/+918851226314 
Hepatitis C Treatment Cost in India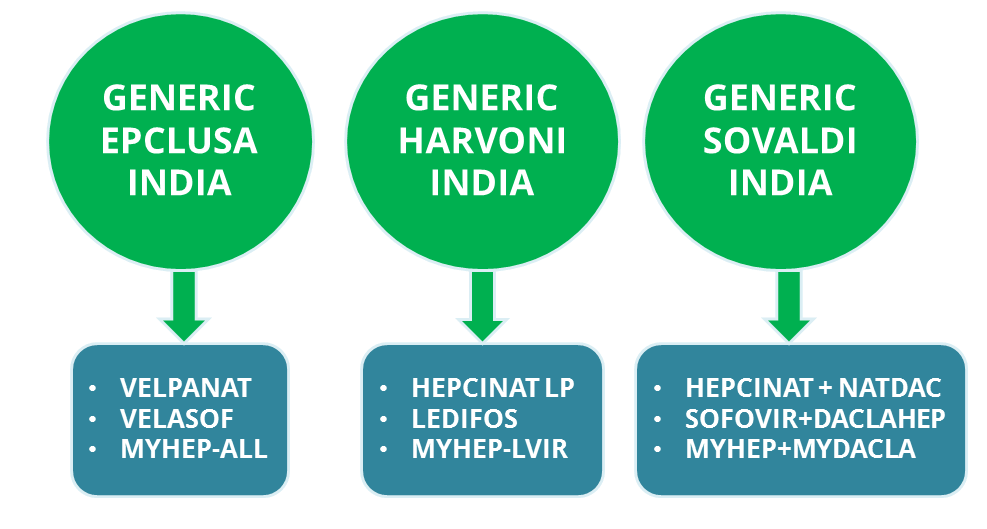 In the medical travel world, India has been recognized as a destination that offers quality care at much lower rates compared to other countries across the continents.
The latest low-cost treatment that India offers is that of hepatitis C, which is highly sought after these days. The cure for this disease is the command today.
Thankfully, India provides the same at a fraction of the cost elsewhere. It gives momentum to the medical travel industry of India. At the same time, provides affordable medical treatment to those in need.
To produce the generic versions of Sovaldi, Harvoni and Epclusa, Indian drug manufacturing companies have received a licence. These medications are easily available in cities that include Bengaluru, Hyderabad, and Chennai.
Hepatitis C treatment cost in India is approximately INR 70,000 for the complete course.
How to buy generic Hepatitis C drugs in India?
Generally, there are two methods to get generic hep c treatment into Canada for personal use.
1. Order medicine online directly from India: 
It is that you don't need to go anywhere, all you need to do is to order medicine from your present location online from India.
Some documents you need to send to the supplier showing that it's been prescribed for individual use only like doctor prescription, id proof, complete shipping address.
Lastly, you need to follow payment procedures, medicine will reach your location within the stipulated time.
2. Travel to India:
There is another way is that you can travel to India to get treatment. However, I generally prefer buying online instead of travelling to India just only for medication.
However, if any person wants to travel to India for holidays then this is a good option.
The best way to buy generic Hepatitis C medicines in India is to look for trustworthy suppliers. You can also get deals and discounts there.
I hope this information is helpful for hep c patients in Canada. If you would like to order generic hepatitis c treatment or need information about how to order directly from India at the lowest possible cost please WhatsApp me https://wa.me/+918851226314 or mail me at dev@generichope.com. I will help you
Q&A
How much does Hepatitis C treatment cost in Canada?
The cost of other Hepatitis C drugs is also high: Harvoni price $94,500 for a 12-week treatment. Mavyret costs $39,600 for a 12-week treatment. As well, Zepatier costs $54,600 for a 12-week treatment course.
How much does Epclusa cost in Canada?
For the most common course of treatment, Eplucsa price in Canada is $24,000.
*Prices are subject to change.
How much does Harvoni cost in Canada?
For a 12-week treatment, Harvoni costs $94,500 in Canada.
* All Prices are subject to change.