Sofosbuvir Velpatasvir cost in India
In comparison to the international market of medicine, the cost of Generic Epclusa is extremely low in India.
In general, the price of Generic Epclusa tablets (Sofosbuvir 400 mg + Velpatasvir 100 mg) tablet in India is around US$600 to US$690.
The cost usually is determined by the patient's shipping country. In comparison to EMS service, typically the shipping price is high of FedEx and DHL.
Brand name of generic Epclusa (Sofosbuvir + Velpatasvir) in India
Gilead authorised generic Epclusa first became accessible in May 2017 in India.
Some famous pharmaceuticals in India are manufacturing Velpatasvir 100 mg + Sofosbuvir's 400 mg a generic version of Epclusa.
Gilead Science Inc. has licensed these companies to manufacture and market Velpatasvir and Sofosbuvir in India.
Famous brand names of generic Epclusa in India:
India's Natco pharmaceuticals manufacture 100 mg Velpatasvir/400 mg Sofosbuvir with brand name Velpanat
India's Hetero Healthcare manufactures 100 mg Velpatasvir/400 mg Sofosbuvir with the brand name Velasof
India's Mylan Pharmaceuticals is the manufacturer of the Myhep-ALL brand name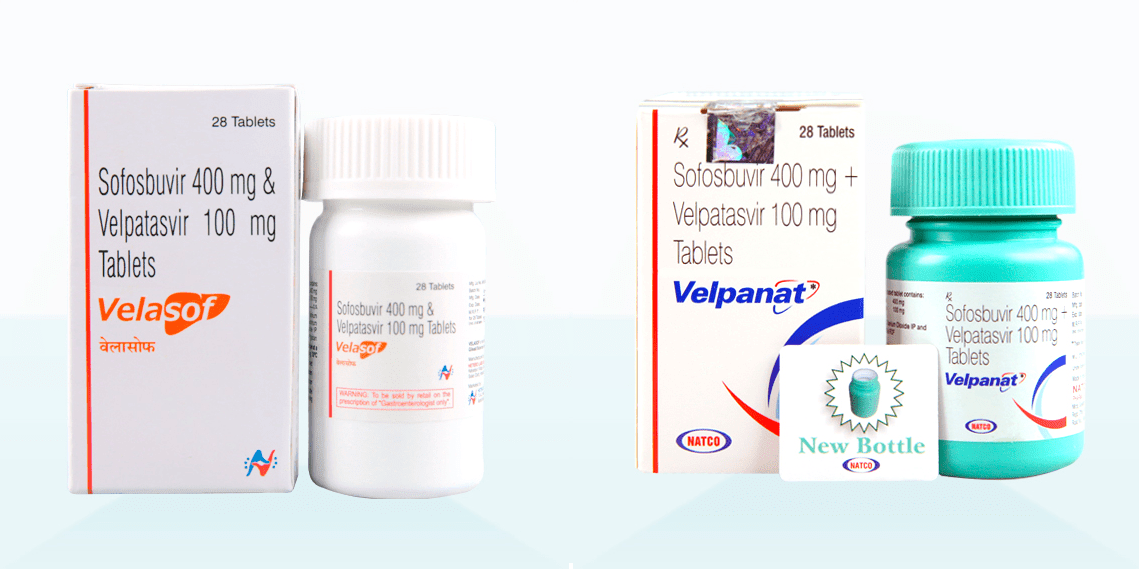 Is Generic Epclusa as Effective as Brand Epclusa?
In terms of cure rates, both brand Epclusa and generic Epclusa have the same numbers. Both the tablets are alike, with the sole exception of the medicine cost and the tablet's colour.
Generic Epclusa vs Generic Harvoni
All genotypes of hepatitis c can be treated with Generic Epclusa.
If a patient does not have enough money for a genotype test or if they are not aware of their genotype, they can opt for Generic Epclusa. The fund for a genotype test will be saved.
Usually, Epclusa is also known as the most powerful treatment for Genotype 3 Hepatitis C.
Generic Harvoni, on the other hand, is for certain genotypes of hepatitis C, like genotype 1. Generic Harvoni is specifically effective for hep c genotype 1.
How to buy generic Epclusa tablets online in India at the lowest cost. 
A patient can import a minimum of 3 months' supply in most of the countries if they have a doctor prescription and they are importing medicine for personal use.
I hope this information is helpful for hep c patient. If you would like to order generic Epclusa online or need information about how to order directly from India at the lowest possible cost please WhatsApp me https://wa.me/+918851226314 or mail me at dev@generichope.com. I will help you.