1. Is hepatitis C curable?
New generation Direct-acting antivirals (DAA) drugs such as Sofosbuvir, Velpatasvir, and Ledipasvir, have about 94-99% probability for curing the hepatitis C. These medicines are known to remove Hep C virus from the body completely.
2. About Ledipasvir and Sofosbuvir:
Ledipasvir and Sofosbuvir is a medication that is efficiently used for treating the hepatitis C and it is available under the trade name "Harvoni". The Harvoni is the combination of both the Sofosbuvir 400 mg and Ledipasvir 90 mg. According to a study, people infected with the Hepatitis C Virus (HCV) Genotype 1 have the cure rate of about 94% to 99%. In some cases, generic Harvoni in India also conveniently supports the HCV Genotype 3 and 4.
Ledipasvir and Sofosbuvir are present on the list of Essential Medicines of World Health Organization. Sofosbuvir and Ledipasvir is the high extensive remedy for reducing the Hepatitis C Virus. Instead of taking the Sofosbuvir, the Hep C could be better treated with the Sofosbuvir and Ledipasvir. For example, taking the Sofosbuvir combined with the ribavirin for the treatment could also cause the pegylated interferon.
3. About Hepcinat LP: Ledipasvir (90 mg), Sofosbuvir (400 mg)
Hepcinat LP (Ledipasvir+Sofosbuvir) is the Harvoni generic brand name in India. This is a combination of both the Sofosbuvir and Ledipasvir and it acts as the most affordable and efficient generic Hep C medicine in India. Under the license from Gilead, Hepcinat LP produced by Indian pharmaceutical company Natco Pharma LTD., The medicine is notably intended for treating the Genotype 1 of chronic hepatitis C virus (HCV).
Harvoni is the international trade name of the Hepcinat-LP drug and it offers best effective treatment for Hepatitis C Genotype 1 that efficiently cures about 94% to 99%.
Hepcinat LP prevents the growth of the Hep C virus that presents in the body and ultimately weakens virus thus preventing the reproduction as well as replication. Hepcinat LP is considered as one of the best medicine for treating the HCV and completely eliminates viral activity from the liver.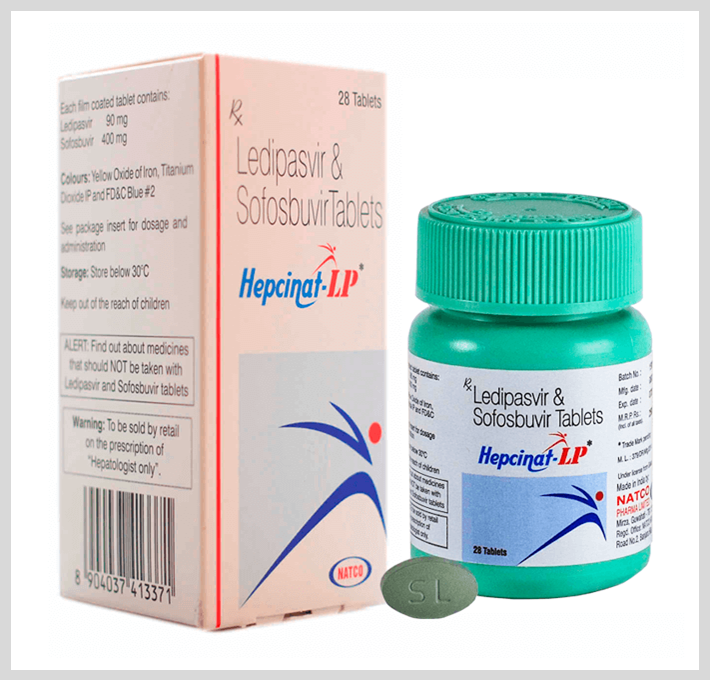 4. How India manufactures sells Hepcinat LP and other generic Harvoni.
Normally, Harvoni is a patented drug. Gilead Sciences is the patent owner, in this case with the right to manufacture and sell Harvoni. Indian market is very large and contains more than a billion people. According to recent estimation, more than 30 Million of the patients have viral Hepatitis C in India. Gilead Sciences has agreed to provide the licenses to 7 pharmaceutical companies in India to manufactures the generic version of hep c drugs and market approximately 90 developing countries.
The cost of the international Hep C drugs Harvoni is very high, the patient needs to take about 84 tablets for a complete course of therapy so that patients having lower purchasing power could not afford this expensive treatment.
For the convenience of the patients, Indian companies manufacturing and marketing the generic Harvoni under Gilead license.
Now patients from worldwide suffering from the hepatitis C could get more benefits from the inexpensive affordable medicine.
Natco Pharma Ltd is one of the licensed pharmaceutical company in India. Natco Pharma is one of the most popular Indian pharmaceutical company known for producing the best Indian generic medicines with the proven track record.
Natco Hepcinat LP (Generic Harvoni) got approval to launch in India December 2015 by Natco pharma ltd. Natco pharma became the bestseller worldwide instantly.
Based on the reviews of the patients who used the Hepcinat LP from "Natco Pharma", it is considered as the best Hep C generics. Hepcinat LP is completely equivalent to an international drug with the absolute pharmacological properties.
Hepcinat LP (Sofosbuvir and Ledipasvir) treatment regimens of 1 pill a day could increase the cure rate and mainly for the 1st and 4th Genotypes.
Classification of Hep C (HCV) Genotypes:
Hepatitis C Virus has 6 types of genotypes. At the early stage of the treatment, doctors would determine the genotype of the patient. Each Hep C genotype has the certain combination of active substances so it needs to be determined before the treatment. Some of the important tests must be taken that includes Genotype, presence absence of coinfection, cirrhosis, viral load. Based on the complete data analysis, patients are selected for the suitable regimen treatment.
To treat 1 genotype of the hep c virus, combinations of Sofosbuvir + Daclatasvir, Sofosbuvir+Ledipasvir and Sofosbuvir+Velpatasvir well suited equally. According to clinical trials, there is no difference between the effectiveness of these treatments with the percentage of the SVR will be around 98%.
5. What is the price of Natco Hepcinat LP in India?
Most of the patients worldwide seek to acquire the Indian Hep C treatment Hepcinat LP.
Normally, the cost of generic Harvoni (Hepcinat LP) Ledipasvir and Sofosbuvir in India price less than 700 US dollars. Based on the National Pharmaceutical Pricing Authority India (NPPA) App, the MRP of Hepcinat LP is INR 18500/- (UD$ 260) for a single bottle (28 tablets). After discount, the price for a single bottle would vary from $180 to $200 and it also depends on the distributor. Approximately 3 bottles of medicine are necessary for a therapy of 12-week course. Please note: The prices can be changes according to manufacturer and Indian government authority regulator.
Hepcinat LP is in great demand and the characteristics of the international Harvoni medicine are same and the price is less than 98%.
Our team also partnered with the certified and trusted suppliers of generics Sovaldi, Harvoni and generic Epclusa to offer three vials drug from hepatitis C and it is wholly 99% lower than original drug price.
If you need HEPCINAT-LP for personal use, contact me. I'm here to help you to get this directly from India at the lowest possible cost.  Click this link to contact me directly on WhatsApp http://wa.me/+918851226314
6. How to Get Hepcinat LP Generic Harvoni in India
Many countries restrict these generic drugs because these are not certified in their territory. Some of the countries are not included in the list where the generic production is allowed. But this should not be the reason that patients cannot get the affordable generic Hep C medicines. They can import generic medicine for their personal use. However, many countries allow importing medicines in small quantity for their personal use. With the modern legislation under the 60th article of the WHO, it is legal to allow import of medicines for personal use.
Still, the problem is how actually anyone can buy generic Harvoni from India, either do it online through any trusted pharmacy or either travel to India for hep c treatment?
The common question generally people have in their mind:-
"I have a proper prescription for getting Harvoni which is issued by a doctor, but still, I cannot afford such expenses, can I go to India and get these medicines or get medicine online?"
Before going to buy generic Harvoni from India, it is really essential to understand the concept behind the system in India when it comes to buying Hepcinat LP (generic Harvoni). This will be based on three factors.
Production of medicines: In general, 7 companies licensed by Gilead Sciences to manufacture or produce generic Harvoni in India. Among the top licensed companies for the production of new drugs, the most important companies include NATCO pharma, Hetero, and Mylan. Other companies that produce generic Harvoni are Cipla, Zydus Cadila, Ranbaxy Laboratories, Strides arcolab and Sequent scientific. These companies do not supply these drugs directly to the patients, these companies first supply medicines to their respective authorized distributors.
Distributors of medicines: ( licensed wholesale companies registered to sell these generic medicines in pharmacies as well as individuals).
Pharmacies/individuals: These people distribute medicines to patients and other areas.
Usually, people have three different options to buy generic Harvoni from India
i. Buy Hepcinat LP (generic Harvoni) online from India
Most importantly, the purchase of medicines through the Internet is one of the common choices for the people to get quality medicines, as well as it, become commonplace worldwide. Currently, more patients prefer to buy Hepcinat LP through Internet because it is highly convenient, but to get quality products it is important to deal with trusted online pharmacies that are located in India. If you have any confusion you need to do research about the supplier. Always choose the company which has good reviews. To buy Hepcinat LP (generic Harvoni) online from any Indian company you need to check reviews about the company as well as check how long the company is in this business, and check their reputation.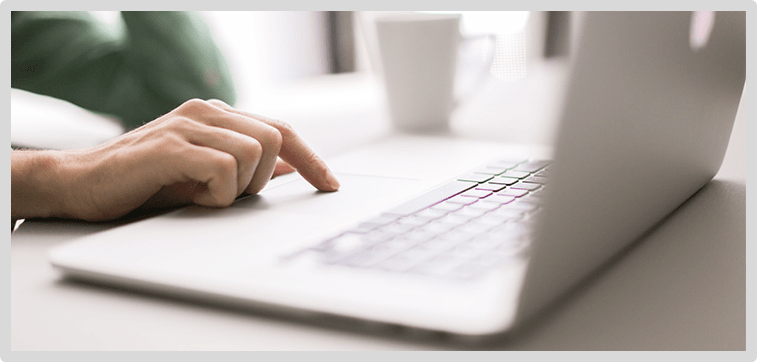 How to choose the best Online Indian vendors or suppliers
Before going to buy any medicine you need to check their About Us page at the same time it is important to check if they have a proper license to sell those medicines. Along with this, you must make sure whether the license can be checked on the respective state website of India.
ii. Travel to India for hep c treatment
It is one of the common options but this also gives the price of a course of treatment for Hepcinat LP when it comes to purchasing in India under $ 1,000. In addition to this, you need to add the cost of flying to India and back, accommodation, taxis etc. Usually, most of the patients are also happy to spend money on these additional things instead of paying $ 94,500 for the original Harvoni.
Of course many happy stories from patients who travelled to India for purchasing Hepcinat LP or any other generic Harvoni like Ledifos and returned to their respective countries. Usually, the cost of flight, medication, the hotel does not exceed $ 5,000 which means patients also saves about $ 90,000.
For this, hepatitis C tourism becomes popular in India, as well as more people are going to India to buy generic Harvoni worth about $ 1000.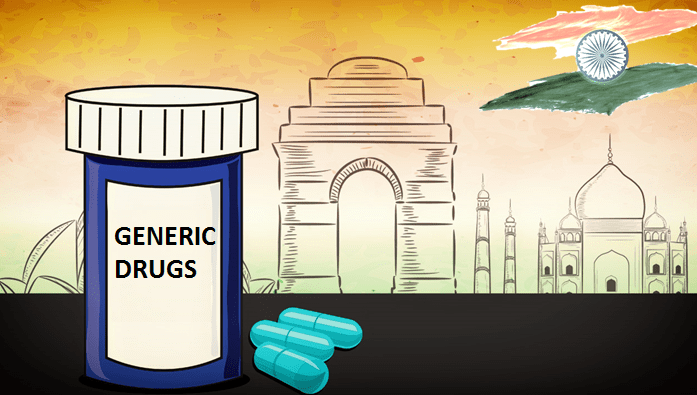 iii. Hep C Buyers Clubs
Buying generic Harvoni from buyers' club is also another option. There are some buyers clubs that are helping peoples to get affordable generic. Dr. James freeman fixhepc buyers' club is one of the most famous Hep C buyers' club.
If you have any query related to HEPCINAT LP (generic Harvoni), then contact me. I'm here to help you. Click this link to contact me directly on WhatsApp wa.me/+918851226314 or mail me dev@generichope.com
7. Doctor Consultation
When it comes to buying a medicine, it is important to consult with your doctor. As well as it is always essential to discuss the question and other factors of treating hepatitis C. This allows anyone to choose the right treatment. Purchase of medication also depends on the condition. Most of the doctors also understand that their patient cannot have the ability to afford around $ 94500 for the original medicines. US and other countries doctor do not write the generic prescription because in their countries these generics are not registered and they can lose their licenses if they write generic prescriptions. They can only write Harvoni, Sofosbuvir or Ledipasvir Sofosbuvir. However, they can help you to do the blood test and monitor your treatment.
While starting treatment with Hepcinat Lp and other generic Harvoni, the doctor will write your tests for liver assessment, blood tests, viral load, these are important to confirm how the medications work and allow identifying how the body reacts to them. It is also important to avoid if anything goes wrong, so the doctors are aware of the entire situation and provide assistance according to patient situation.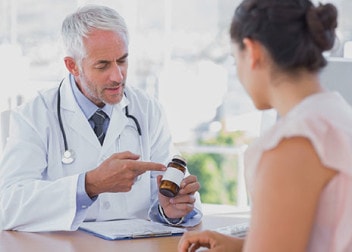 Based on the doctors' reviews Hepcinat LP is considered as the first combination drug and it can be used in monotherapy of HCV. Normally, the active components of the drug have the ability to block the production of enzymes involved in the replication of viral RNA.
When the synthesis of NS5B, NS5A is insufficient, then the HCV virus cannot reproduce which means it can be completely eliminated from the patient body within two to three months. Based on the recent study, around 95% of the patients who are taking Hepcinat LP, after the four weeks, zero viral loads were detected in around 98% of patients. With the help of this, doctors also found that in the treatment of hepatitis C 1 genotype the highest efficacy was combined-drug therapy without Ribavirin.
8. Proper Dosage and Instructions for Using Hepcinat LP
Hepcinat LP should be taken based on the defined dosages recommended by the doctor otherwise patients can experience many side effects including nausea, dizziness, headaches and many others. The recommended level of Hepcinat LP is 1 tablet per day. Always make sure about the dose, if you take an excess dose then it will cause many unwanted reactions. Take the tablet with cold water after the meal.
Hepcinat LP side effects
In the beginning of therapy some patients experience decreased appetite, weakness, mild malaise etc. but the 3-4th day of treatment, side effects will be reduced up to 94% of HCV patients. Some of the undesirable reactions are:-
• Itching
• Fast fatigability
• Laboured breathing
• Decreased appetite
• Dry mouth
• Intestinal disorders
Cannot take the remedy in such following cases
• If the patient is under 18 years
• During pregnancy
• During breastfeeding
• Addition of alcohol
Based on the patients' feedback on treatment and reviews Hepcinat LP drugs do not cause any unwanted effects in case of rational or it is completely reduced Hep c virus when the patient takes tablets in a timely manner and follow doctor advice.
9. How to find fake vs. original Hepcinat LP
Generally, we have not seen any fake hep c medicine case in our experience. Nonetheless, check the following criteria while buying Hepcinat LP:-
• The manufacturing time and batch number of the medicine indicated on the carton pack and plastic bottle must match;
• Description for a medicine is given only in the English language.
• There is a Silvery additional hologram on covers of the medicine package
• The original Hepcinat LP tablets are a very large oval size and available in light green color, with some embossed letters known as SL.
Natco Pharma timely does the changes on its packaging.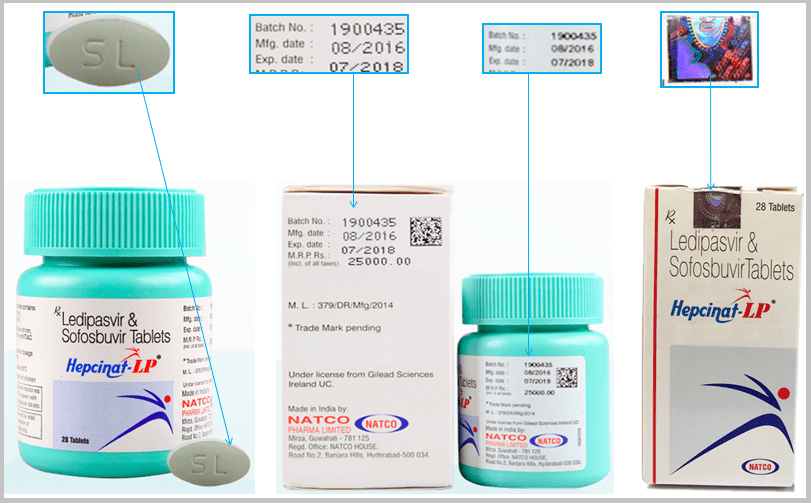 10. Reviews or Case studies of patients and doctors regarding Hepcinat LP
Every review regarding the Hepcinat LP treatment, that we actually met, and feedback from the patients are positive. Many reviews of doctors regarding this medicine are positive. It is because of the reality that most of the affected individuals were capable to attain a positive result on the hepatitis c treatment.
11. Alternative of Hepcinat LP
India is the biggest producer of generic hepatitis c and other lifesaving medicines.
Under the certifying Gilead Sciences agreement, apart from Natco pharma, there are some other pharma companies in India who can manufacture or market the generic version of Sofosbuvir and associated drugs Ledipasvir. Following are the list of the companies with the brand name.
Other existing brands of Generic Sofosbuvir and Ledipasvir fixed-dose combination availability and India
Marketing company
Brand name
Gilead Licensee
Mfg.
Natco Pharma Limited
Hepcinat-LP
Yes
Natco Pharma Limited.
Hetero Healthcare Limited
Ledifos
Yes
Hetero Laboratories Limited
Mylan Limited
(Marketing and Selling the NATCO product)
MyHep LVIR
Yes
Natco Pharma Limited
Cipla Limited (Marketing and selling the Hetero product)
HEPCVIR-L
Yes
Hetero Laboratories Limited
Zydus Heptiza (Marketing and Selling the NATCO product)
LediHep
Yes
Natco Pharma Limited
Dr Reddy's Laboratories (marketing and selling the Hetero product)
Resof – L
No
Hetero Laboratories Limited
Biocon Ltd. (Marketing and selling the Hetero product)
Cimivir L
Yes
Hetero Laboratories Limited
Abbott India Limited (marketing and selling the Hetero product)
Ledviclear
No
Hetero Laboratories Limited
Emcure
Sofocure L
No
Natco Pharma Ltd.
Ranbaxy Labs Ltd. (marketing and selling the Hetero product)
Sofab LP
Yes
Hetero Labs Ltd.
Strides Arcolab Ltd.
Virpas
Yes
Natco Pharma Ltd.
If you have any query related to HEPCINAT LP (generic Harvoni), then contact me. I'm here to help you. You can contact me directly at WhatsApp + 918851226314 or mail me dev@generichope.com
Now your turn – share the experience with the Hepcinat LP
We invite customers to share their experiences in the comment section. By sharing the thoughts, one will assist other people who want to purchase Hepcinat LP or other generic medicine like Ledifos.
Stay fit.
With our heart, we desire you a speedy healing
If you need HEPCINAT-LP for personal use, contact me. I'm here to help you to get this directly from India at the lowest possible cost.  Click this link to contact me directly on WhatsApp http://wa.me/+918851226314
Disclaimer
The above information is only based on our knowledge, factors, and experiences. We are not the doctor or any medical representative. Please consult with your doctors and follow their instructions.
Contact us: For additional query