Hepcinat Plus
Indian generic medicine manufacturer Natco pharma added another milestone in its hepatitis c portfolio.  On, 02 July 2018, the company also launches the combination of two generic hep c drugs (Sofosbuvir 400mg and Daclatasvir 60mg) in a single tablet/bottle pack under its brand name of Hepcinat Plus in India. At previous both drugs comes with separate tablets for example if you need one-month treatment course then you should take one bottle (28 tablets) of Sofosbuvir and another bottle of Daclatasvir (60mg). Now both come within a single tablet/bottle.
Hepcinat Plus is the first medicine in India launched by Natco pharma combined two drugs ingredients with a single tablet for the treatment of Hep C virus. A hep c patient should take the minimum of 3 bottles (12 weeks) treatment course
This medicine is very effective for the treatment of patients with chronic hepatitis C virus (HCV) infection.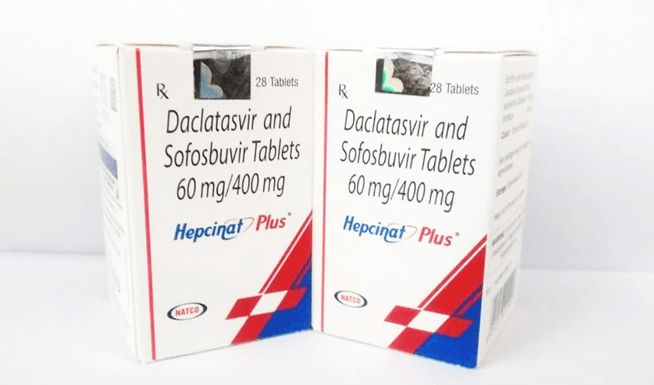 | | |
| --- | --- |
| Brand Drug Name | Hepcinat Plus |
| Generic Name (Active Ingredient) | Sofosbuvir 400mg & Daclatasvir 60mg |
| Indian Manufacturer | Natco Pharma Ltd |
| Dosage Form | Tablet |
| Country of Origin | India |
| Packaging Size | 28 tablets in a bottle |
| Packaging Type | Plastic Bottle |
| Expiry | 1 Year to 2 Years |
Hepcinat Plus Dosage
Now it is easy for patients to take Sofosbuvir 4000mg+Daclatasvir 60mg dose in a single tablet. The dose is one tablet per day.
In some circumstances, Hepcinat Plus is used with Ribavirin.
The side effects of Hepcinat Plus are common such as Headache, Fatigue, Diarrhea, itching, rashes
Hepcinat Plus for Genotype
Hepcinat Plus (Sofosbuvir + Daclatasvir) is effective for hepatitis c genotype 2,3,4,5,6 treatment with or without Ribavirin.
For genotype 3 Velpatasvir is much effective treatment then Sofosbuvir Daclatasvir.
Hepcinat Plus price in India
Natco has launched Hepcinat Plus at a retail MRP of INR 17,500/-, for a bottle of 28 tablets. However, people can get this medicine under INR 12,000/- after discount.
If you have any query related to Hepcinat Plus then contact me on WhatsApp +918851226314 or mail me at dev@generichope.com