What is posaconazole?
Posaconazole is an antifungal drug that prevents the spread of fungal infections in the body. Use of posaconazole injections is strictly prescribed. They help in the prevention of infections caused by various fungi like Aspergillus or Candida.
It is prescribed to people who have a weak immune system and, hence, a higher risk of getting affected by these infections.
Posaconazole can also treat oropharyngeal candidiasis (OPC), including azole-refractory oropharyngeal and esophageal candidiasis.
POSANAT (Posaconazole) Generic Brand in India
After the drug received the USFDA approval in 2014, Posaconazole injections were sold in the USA by Merck, under brand Noxfill.
In India, In June 2018, Posaconazole injections were first made available in the Indian markets under the brand name POSANAT, Natco Pharma launched the injection version of the drug. The Natco POSANAT (Posaconazole) Injection is available in 300mg or 16.7ml.
These injections are important because they are anti-fungal and used in people with weak immune systems. The people, who are highly immune deficient, have an increased risk of getting infected. Their weak immunity could be due to stem cell transplant or chemotherapy in present or past.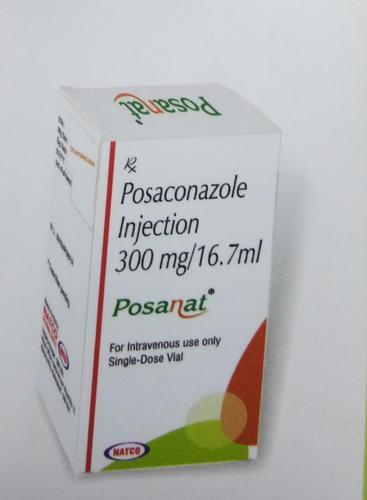 Natco POSANAT Generic (posaconazole Injection, 300 mg/16.7ml)
POSANAT 300mg is used for treating serious fungal infections. It is a 30-90 minute process and is injected in your vein via a tube.
It's anti-fungal agents stop the growth of fungi by preventing the fungus from forming their protective covering. This covering is essential for their own survival inside the body of a human.
POSANAT Posaconazole injection should only be used if prescribed. If you are pregnant or plan to be, are breastfeeding or will be, then consult your doctor.
These drugs are meant only for adults – above the age of 18 – and should be kept out of children's reach.
Product details:
| | |
| --- | --- |
| Brand Drug Name | Posanat |
| Generic Name (Active Ingredient) | Posaconazole |
| Indian Manufacturer | Natco Pharma Ltd. |
| Dosage Form | Injection |
| Dose/Strength | 300mg |
| Packaging Size | 16.7 ml vial |
| Packaging Type | Glass Vial |
| Indications | Invasive Fungal Infection |
POSANAT Posaconazole Side Effects
Like any strong drug, POSANAT Posaconazole has some side effects –
Vomiting, nausea
Constipation, diarrhea
Headaches, mild fever, dizziness
Abdominal and stomach pain
Insomnia
Decrease in appetite
Tiredness and weakness
Joint or muscle pain
Chills, cough
Rashes and other allergic reactions
It is important that your doctor knows if you are consuming this drug. In addition to that, your healthcare provider or doctor also needs to know if you are taking any other drugs, medicines or supplements.
Your doctor should be in the know if you have any other diseases.
POSANAT Posaconazole cost price in India
The price of the generic Posaconazole injection POSANAT is 90% less than it's international brand Noxafil which is sold around $6,000.
The price of POSANAT (Generic Noxafil Posaconazole) is not more than $150
If you have any query then contact me on WhatsApp +918851226314 or mail me at dev@generichope.com or send me a  message by filling out the CONTACT form.